All about what's happening in the city. Brought to you by the good folks at the City of Melbourne.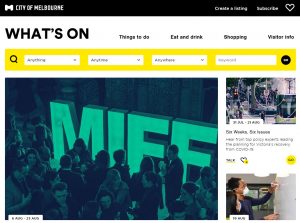 Hidden in the city's laneways, arcades and corners, you'll discover the unexpected, unpredictable and often unconventional.
These are Melbourne moments.
What's On
Things to do
Eat and drink
Shopping
Visitor Info
Getting around
Maps
Browse maps of inner Melbourne or drop into a visitor hub to pick one up.
Public transport
Explore the city with Melbourne's trams and extensive train and bus networks.
Cycling
Hop on a bike and enjoy a spin around Melbourne, a proud cycling-friendly city.​​​​​​​​​​​​​​​​​​​
Driving
Driving and parking in the city is easy and safe​, with plenty of car spaces available.
Aboriginal Melbourne
Find out more about Aboriginal culture through Melbourne's galleries and museums.
Street art
Melbourne laneways are filled street art murals, stencils, paste-ups and mixed media.
Museums and galleries
Explore Melbourne's public museums and galleries along with artist-run and commercial galleries.
Parks and gardens
One of the most loved things about Melbourne is its picturesque parks, gardens and green spaces.
Melbourne Greeter Service
Discover what locals love about Melbourne with a free walking tour of the city.​​​​​​​​​​​​​​​