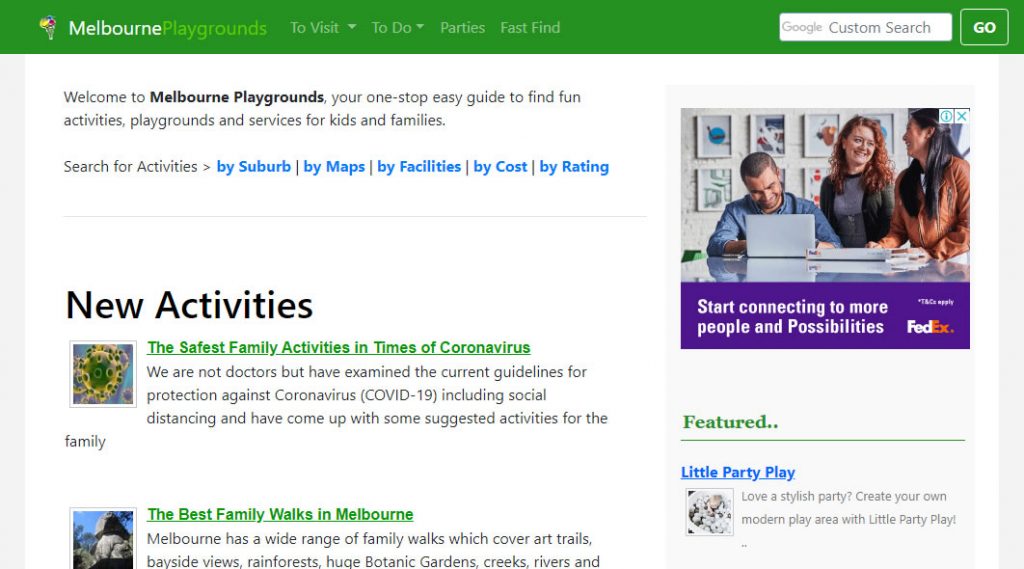 melbourneplaygrounds.com.au, your one-stop easy guide to find fun activities, playgrounds and services for kids and families.
Melbourne Playgrounds was launched in 2009 with the aim of becoming THE place for parents and children, when looking for activities to do.
Melbourne Playgrounds is a free on-line guide to thousands of Melbourne activities, products and services for Kids!
Activities cover playgrounds (more than 4500 reviewed with photos), Play Centres, Aquatic Centres, skate parks, BMX tracks, miniature trains, sport and recreation, nature activities, museum & science, educational pursuits, indoor activities, hobbies and cultural activities such as music and dance.
There is also a huge directory of Children's party related services and a Kids Directory of products and services. The Outside Melbourne section is also very extensive with more than 1000 family activities in regional Victoria.
Melbourne Playgrounds is unique in that it provides reviews, ratings and photos of activities.
Melbourne Playgrounds is a free resource and available 24/7.
Some useful resources on our site are shown below.
Enjoy visiting Melbourne Playgrounds
Search for Activities > by Suburb | by Maps | by Facilities | by Cost | by Rating
---
Website: melbourneplaygrounds.com.au
URL: melbourneplaygrounds.com.au
Established: 2009
Publisher: Ian White